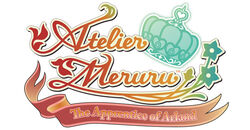 This may have been the strongest game in the Arland trilogy, at least from a gameplay perspective. I also found Meruru to be really likeable, loved the idea of a princess working to better her kingdom, and thought her outfit with its adorable, practical little bloomers was super cute.
edit: Disclaimer: Wrote this when I was off my meds and kind of whatever the opposite of high is. BUT YOU CAN'T MAKE ME REDO IT HAHAHAHA

In the final game of the Arland series, you play as Princess Merurru, who needs to prep her kingdom for induction into the Arland Republic. Joining the republic is a great thing for the townsfolk, and so it's the royal family' job to ensure that their economic situation looks good enough Arland wants them to join. Meruru insists that she can use alchemy to help the kingdom's development, so your job becomes just that — grow and expand the kingdom via alchemy, battles, and requests, and use your funds to build facilities and invest in opportunities that help it grow. The game is half town sim, half item crafting and all amazing.
I really loved a lot of aspects of this story. I loved how Meruru, as a princess, got to be in charge of bringing her people into modern times in the form of moving to a more democratic form of government — this kind of political story is almost always reserved for male characters, and, though I don't think this was purposeful, I did like that the future of the kingdom was actually taken away from men in the plot and given to Meruru to modernize. I really loved that "but you're a princess" never came up as a reason Meruru couldn't accomplish her goals. Instead, her lack of commitment to her goals in the past was her main obstacle, and she constantly gets praise for her capability and determination. I loved that the bulk of the supporting cast was women. I loved Astrid, because the "mad scientist who gives no fucks" archetype is so, so rare for women and to see it presented uncritically was awesome. Totori was infinitely less annoying.
I also appreciated that the fanservice was whittled down to one side character as opposed to the entire game all the time, though obviously I would have preferred it not be there at all. There was a Bath Scene, because of course there was.
That said, though, I also found the side characters more compelling here than in Totori. I was glad to see Mimi back, and I liked the relationship between Lias and Rufus a lot. I also liked the Keina/Meruru BFF thing, as it's always nice to see female friendship being championed. The game felt the need to bring back Gino and fucking Peter, but they were avoidable so whatever.
It was also nice to move away from the unsure/easily-embarassed personality type of Rorona and Totori. Meruru was confident, a little brash, and outgoing, which was a nice change after Totori being the biggest doormat ever.
It did have its flaws — like I said, there was still an annoying diversion for fanservice in some plotlines, and I really hated how Esty's entire character was derailed into being obsessed with youth. I didn't mind in Rorona where she and Esty end up serial daters because the focus was on them having fun going out and getting dressed up, but the whole "MUST YOUTH AND HUSBAND" thing was dialed up to caricature levels, which was a shame because I liked Esty and she's badass.
And of course, that crafting system. Still in love with the gameplay, and I thought the game did a really nice gameplay/story integration job by having Meruru use alchemy to prepare farmlands and development supplies and such.
Overall this was a super fun, lighthearted game with some nice focus on female capability and friendship, and I was majorly relieved to see it was back to the kind of form I saw with Rorona after the disaster that was Totori. Next up in this series is Ayesha, which I've been looking forward to because of the sister-saves-sister plot.