The stated premise of Luminous Arc is that women are evil witches, and will destroy the world by turning Good Men away from God. Within the first half hour I turned to Boyfriend and said, "I can't figure out if this is a horrifying example of gamer culture or a brilliant satire." He just kind of gave me this pitying look.
The first five hours I spent with this game were me trying to figure out if it was playing its premise straight. "A game that came out in 2007 couldn't get away with hating women this much," I would think, and then I would remember Bravely Default, which literally had this as a subplot, and lose my verve. Then something would happen that would make me hope, then something would happen that would convince me my hope was stupid.
This is a game that dares to ask questions like, "What if we lived in a world where women weren't evil?" and "If the person you kill is a female who wanted power, is it really murder?"

Luminous Arc is a tRPG. I have not played many tRPGs, so unfortunately I can't really comment on it from a genre-perspective. My brother, a huge Fire Emblem fan, tells me the battle system looked almost identical to that, so while I did enjoy the battles I think it's likely I just enjoy the genre and there was nothing remarkable about this game. Certainly it lacked character balance– there were a few characters who you had virtually no chance of winning without, and some who were just complete 100% dead weight. This annoyed me. I like to keep character levels uniform, for one, see how everyone battles for two, and when you had to include a shitty character in a battle you basically started handicapped, which was irritating.
The story, though… ugh.
The game starts out with our Shonen Hero, Alph, who lives in a commune run by the local church with his brother. The church basically takes in orphans and trains them to be church soldiers, and Alph, being the Shonen Hero, is the best one evar. At the time of plot-kickoff, monsters are appearing, and "witches," powerful magic-using women who are enemies of the church, are starting to show up, and as we know powerful magic-using women must be killed, especially by churches, so we set out to kill them. Also they look like this:
Remember, children: women with power are evil dirty whores. Good women are meek and mild and let the menfolk save them.
As I said, I spent hours upon hours forcing my way through this just in disbelief that this plot could be played straight. Early on, there are some hints it's not — an awesome witch named Lucia shows up at the commune to be sassy as hell at everyone, but it's unclear if we're supposed to love her sass like normal people or hate her sass because ew, women with opinions. Then the child soldiers murder a woman they're told is a witch, and it's heavily implied she wasn't actually and they just killed an innocent woman, but then we meet Dirty Whore Witch up there, and also there's a Brock whose whole point is to sexually harass the women because that's ~~hilarious~~, and all in all the signals were so mixed I just could not decide.
Ultimately it is in fact revealed that the church's god is evil and the witches are good, but the game seems to think this "twist" gives it carte blache to treat the women however it wants, and it just does not.
First of all, that the way the witches were demarcated as evil in the first place was by being women with power and sexual appeal, and that part wasn't subverted at all. The game has a real issue conflating female power and sex. The leader of all the witches is dress as such:
The fake church-made witch you fight who is super-powerful looks like this: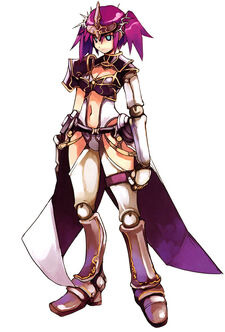 And, grossest of all, when you find out the super-chaste good-girl in your party is a secret witch, her transformation is terrible: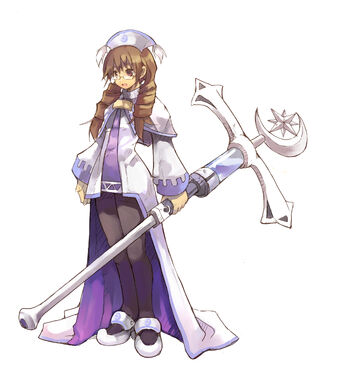 These are not strong female characters, they are Strong Female Characters, "fighting fucktoys," the kind of faux-representation women are handed to get them to shut up without actually taking their feelings into account because the devs actually hate women. That these women weren't evil was supposed to be a massive twist, because, the game says, who wouldn't look at a woman dressed like this, who has power, and not immediately assume she is an evil liar? This is writing and characterization done by people who think a strong woman is a woman that has no self-respect, and if that's how women today was to act, well, they deserve what they get (male-gazed).
(The game at least doesn't go as far as to sexualize the childlike witches, though in context that just highlights what the writers think of adult women.)
I actually think I coasted through the second half of this game high on the pure relief that the moral was not actually, "the church is right, burn the women," but upon thinking about it afterward, the truth is even apart from all the sexism fuckery the story is nonsense. It is one of those stories where Things Happen, and we're told those things make sense in context, but never actually presented any evidence of that. Who the fuck is Iris, and who was she to Heath? WTF was the point of all the setup with ~oh the pope is so young and a rebel with new ideas~ when literally nothing came of it? What the actual fuck was Kopin? What is an angel, who was Priel, where did she come from, and why? She just shows up and starts being an antagonist for the hell of it. What was she getting out of the world's destruction?
The worldbuilding was complete nonsense. What were dragons? Where did they come from? Why were they in the form of human children? Were Alph and Theo actually brothers? What did it mean in practice to be a "rym"? How did they end up with the Light Lapistier, how did they get separated from the witches, and where are the other dragons? What does "being a dragon" even mean if they just live normal human lives unless the come in contact with very specific magic? Nothing makes any sense under even the slightest examination.
The game is also rife with extraneous characters, from all the useless party members (the fucking Brock, who literally never does anything important, I swear to God), to the random swaths of generals whose dialogue was painfully unfunny, to the extra bishops and shit who were just there for the evilulz. Heath was extraneous. Leon was extraneous. I don't even know what the fuck purpose Pollon was supposed to serve. No villains had any motivations outside of "be evil."
So, yeah. This game sucked, but it did teach me I find tRPG gameplay fun, so there's that.