The chapter opens with Pavel telling us that college exams are soon, and right after them would be exams into Malkavian clan. As you may guess, no relation to VtM lore here. In VtM, if you are a vampire, that means your sire consider you deserving that fate, no additional tests are needed. Certainly not formal ones.Pavel says he isn't worried about college exams. He knows a technique allowing him to remember everything in a book with just one read. The memory would fade quickly, but his master tells Pavel not to worry about it, he should focus on vampire stuff only.
I sense author's wish-fulfillment fantasy here because it doesn't make much sense. A lot of vampires pretend to be humans, which requires mundane skills to hold a job. Sure, there are vampires working exclusively for Camarilla, but Camarilla is still an organization. It needs bureaucrats, it needs accountants, it needs diplomats, etc.
But, of course, it's not surprising the author focused on cool stuff above all else.
Oh, and in preparation for Malkavian exams Pavel drinks much more blood than usual. That causes his vampire traits to go haywire, which is the opposite of how it normally works and makes little sense. Vampire who drinks a lot is calm and collected. Hunger is what causes the beast inside vampires to take hold on them.
The next scene is a flashback to Pavel's transformation into a vampire. He volunteered, naturally. His sire is his granduncle. We learn that heaven and hell exist in this AU as Pavel sees them when he dies. Heaven is light above him, and hell is smoke below. It's kinda impressive how author managed to find imagery more simplistic than cartoons. When Pavel is dragged out of the afterlife to become a vampire, a voice from hell laughed and told him they'll meet again. Not really surprising.
Pavel spent the next four days in agony, of which I approve. Once he returned to his senses, he looked into a mirror conveniently placed in the room and saw himself "fully transformed into vampire form." The idea that vampires transform from humans into monsters was actually mentioned quite a few times before. I think the author may be confusing them with werewolves.
He then kills his first victim, guided by blood lust. The scene is very brief and matter-of-fact. There is no horror over what he has done, no dwelling on the victim's sorry fate. Pavel doesn't even know if it were a man or a woman, nothing.
On that cheerful note the scene ends, and we go to Pavel shrugging off the memory and returning his thoughts to the vampire tests. The test is described here, killing the tension, but I would spare it for the next chapter. Suffice it to say, it's something to behold.
Pavel's father calls him and asks to meet his friend who visits Moscow trying to rent an apartment. Pavel begrudgingly does so, displaying casual snobism towards provincials in the process. They then go to a shady office located in a basement, and Pavel displays casual racism towards Caucasus people, commenting on a security guard's appearance.
The guy discuss contract details with an office worker while Pavel is drifting off. Pavel accidentally activates the Sight of Night, however, and sees through the worker's emotions that she is trying to scam them. He calls her out on it, she calls for security to throw him out, but naturally he easily defeats the guard and leaves him in a sorry state. At least no murder this time. In the process he reveals his vampire nature to the woman, expecting her to fear him. She is calm, however, and calls someone of a phone.
Suddenly, a wild vampire appears! And it's not a joke, he is described as wild on account of not having any tattoos which Camarilla uses in this AU. They fight, the wild vampire gets an upper hand, and Pavel ends up lying on the ground. The wild vampire monologues a bit about how "aristocrats" are too full of themselves, but then Pavel uses a trick he's learned from Sergei – fire arrow, – quipping in the process that if the wild vampire was in Camarilla, he'd know what Pavel is doing. Incidentally, casting the spell involves giving an opponent middle finger, just to demonstrate what kind of "jokes" are prevalent in this book.
The wild vampire dies from rapidly spreading fire, and Pavel comments on how drinking too much blood makes you more powerful but also more vulnerable. Which is… eh? Naturally, it contradicts VtM, and it doesn't make much sense symbolically. Blood is life. Vampires drink blood to steal the life of humans and become closer to them. That shouldn't make them more flammable.
Anyway, Pavel then realizes that the wild vampire didn't burn under the sun, which implies he had a cure. Since the cure is distributed only among Camarilla vampires, it means a leak somewhere. He calls his master to inform him about what happened and ask to handle the matter.
We then cut to a brief segment where we learn that Pavel father's friend was made to forget the vampire stuff, the office lady was drained by Pavel, the security guard simply killed. Pavel's master is impressed by him and says that he should have no troubles with passing the test. Way to build up tension here. Pavel tells his father about meeting the wild vampires, but refuses to tell details because he enjoys jerking him around.
On that the chapter ends.
The next chapter contains one of the primary reasons why I've decided to do a readthrough of this book: the vampire test.
It opens with Pavel and Ira waiting alongside other apprentices in a dark room to be called for the test. Pavel is eventually called and find himself in an arena with floor covered in sand. His task is to kill forty (40) people armed with various weapons positioned on the other side of the arena. They come for him in waves of five people. First people with melee weapons, including blessed silver knifes, then shooters trying to surround him, and the last people have armor, making them harder to kill.
Pavel has little trouble, however, and manages to kill them all in a few paragraphs.
Where do I even begin to explain how stupid this scene is?
OK, so, let's talk numbers first. There are fifteen apprentices in total. Each requires forty people, which amounts to six hundreds people being killed here. Even assuming all of them were homeless people with no friends or family to speak of, the sudden disappearance of six hundreds people would not go unnoticed. You'd get people working in shelters for the homeless wondering about the lack of familiar faces (and the lack of people coming to those shelters in general), you'd get journalists investigating, you'd get the police involved. Six hundreds people suddenly disappearing is fucking huge, no matter their social status.
And sure, even VtM vampires were powerful enough to conceal it if they pulled their resources. The buffed Mary Sue version we see here probably wouldn't have much troubles with the task. But why would they even bother with it? If you want to test apprentices' combat abilities, just throw them against an experienced fighter and tell them to survive for a given amount of time or something. It's just such a pointless waste of human life.
And speaking of waste of life, three vampires died on the arena, of which I approve. I disapprove of the reason they died, however. I mean, why the hell would you kill vampires carefully picked out of the population to join you in eternal intrigues? Vampire society is not especially militaristic in VtM, and it should be even less so there on account of Camarilla getting rid of all their major enemies. If vampires can't fight, there is plenty of other stuff they can do.
And finally, there is, of course, the casual attitude towards murdering forty people for a stupid test. I've mentioned before that VtM is big on the theme of losing one's humanity, and I think it's worth mentioning again. VtM, at its core, is a game about becoming a monster. It's about losing everything that makes you human, succumbing to the Beast dwelling in all vampires, becoming a mindless animal which only hungers for blood. No murder should be casual here, for each has a chance to take something from you.
And sure, some players see it differently and play VtM closer to, say, classic D&D adventures where it was A-OK to kill everything you meet in dungeons because they are evil. Even then, though, there is normally a reason given for why the mooks are evil. They work for a sinister figure doing sinister things, or they are bandits killing innocent people, or something else. Here, they are… just an obstacle. They are not part of the world, they are not truly people, they are bots generated for an encounter, and Pavel feels about as much killing them as I do when I kill random enemies in, say, Fallout 2.
And that's the core problem with this book. There is zero immersion. It's just a transcript of author's video game session, with added jabs at his family and college. No attempt was made to make this world feel real, not even the characters treat it as real, and when you do that, when you build a wall between your characters and the world around them, what you get is a borderline sociopathy. They are monsters, and they are boring monsters at that because they don't even relish their atrocities.
Anyway, the rant is over, let's move on.
So, after killing forty people and drinking two of them, Pavel is lifted into the air. The dome of the arena is lifted, revealing all clan higher-ups, including Malkavian leader of all Eurasia. At this point, should I even harp about how in VtM proper vampires tend to be pretty decentralized, with city leaders being the highest Camarilla authority players are likely to see?
Pavel is moved before the Malkavian leader, who takes his medallion, and proclaims that Pavel has passed the test and is about to receive his Night Name. Pavel starts hallucinating about a black ball or a hole in the mist sending beams of black light into his forehead, completing the tattoo.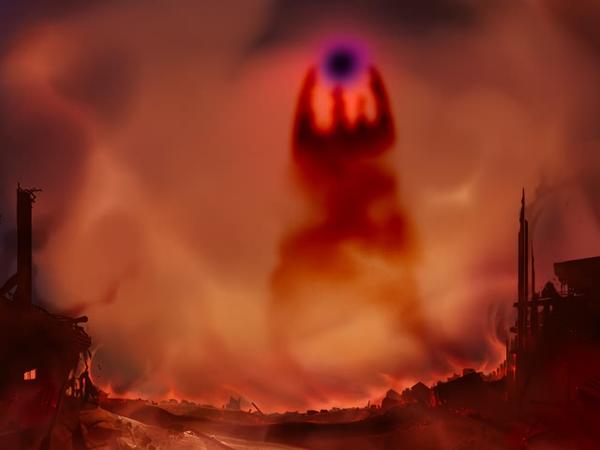 "So, your wish is to get some tattoos? Really?"
Then the beams burn a tattoo on his chest as well and disappear. Black mud smoke fills everything, and Pavel sees burning letters spelling his new Internet alias Night Name: Canreol.
The crowd cheers, and Pavel is moved with the rest of people who passed the test. Here he is greeted by Ira, whose new name is Liharvel. At least there are no apostrophes so far.
Oh, and Pavel is now dressed as Neo. I am not joking, the book explicitly says the all-black attire is like that from Matrix. At least he doesn't have a katana yet.
So then vampires who passed the test go to celebrate the occasion, and the segment ends with Pavel drunkenly stumbling into his home and shouting at his father a bit. Lovely.
The next scene is a gathering of Moscow Camarilla Council. Surprisingly, the participants actually do fall into VtM clan stereotypes: Ventrue is all business, Toreador is big on appreciating beauty, etc.
It's worth noting that out of seven Council members, there is only one woman. She is described as "kinda like a business lady, though judging by her modest dress, her business couldn't be big."
Yeah.
She is also "jokingly" insulted during the meeting, with Nosferatu leader openly telling her to shut up while men are talking. Everyone laughs except her.
I just… *Sigh* Let's just add casual sexism to the list of author's sins.
Anyway, the gist of the meeting is that wild vampires appear all over the country, and they are created by someone who knows how Camarilla operates and how to shield themselves from being revealed by Tremere magic. The Council decides to investigate.
We thankfully move to Alexei then. He's lying in an ambush, disguised as a bum. One of the former apprentices arrives, and Alexei kills him. Good job. I kinda suspect that we were supposed to feel sorry for the vampire, given how his drunken walk home reflects that of Pavel, and how Alexei is a bit too happy to rid the world of a monster, but seriously. Forty people. That's terrible.